Congratulations to the 2011-12 Alice Belkin Memorial Scholarship Recipients
The UCLA Burkle Center for International Relations is pleased to announce the recipients of the 2011-12 Alice Belkin Memorial Scholarship.
Published: Thursday, April 19, 2012
These scholarships are intended to reward outstanding minority UCLA graduate students in the field of International Relations who need financial assistance.
CONGRATULATIONS TO THE 2011-12 ALICE BELKIN MEMORIAL SCHOLARSHIP RECIPIENTS:

AARON ALEJANDRO OLIVAS, PhD Candidate, UCLA Department of History
Aaron Alejandro Olivas is a doctoral candidate in the UCLA Department of History. His research interests include the history of colonial Latin America and the Spanish empire (1492-1808), particularly relations between Spanish America and early modern France. His dissertation, entitled "Loyalty and Disloyalty to the Bourbon Dynasty in Spanish America and the Philippines during the War of the Spanish Succession (1700-1715)," deals with the global economic and political alliances formed between Spanish colonial elites and French slave traders, cloth merchants, and ministers of state at the end of Louis XIV's reign. Additionally, his project examines the complex nature of resistance to the Spanish crown in the century before Latin American independence. Aaron is a member of the Centro de Estudios Coloniales Iberoamericanos de UCLA (CECI) and has also worked as a research assistant at the Getty Research Institute. His career goal is to become a professor of World History and teach at the college level.

ALMAS SAYEED, JD Candidate, UCLA School of Law
Almas Sayeed is a law school student, Class of 2012 and is enrolled in the law school's David J. Epstein Program in Public Interest Law and Policy Program, a selective program for law school students focused on public interest work. Almas's coursework has focused on international law - she is enrolled in the law school's International Justice Clinic and has completed a number of courses in international and human rights law. Almas came to law school with significant international experience. She was a 2003 Fulbright Fellow at Hebrew University in Jerusalem, where she earned her MA in International Studies and worked for the Women's Centre for Legal Aid and Counseling and the European Commission for Cooperation and Development. Following this, she earned her MSc in Economic Development from the London School of Economics. Almas is the recipient of the highly competitive and prestigious law school post-graduate Skadden Fellowship through which she will work on affordable housing and community economic development issues with the Inner City Law Center in Los Angeles.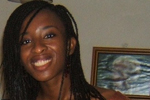 CYNTHIA UGWUIBE, Masters Candidate, UCLA Department of African Studies
Cynthia Ugwuibe is a second year student in the Master of Arts in African Studies program UCLA. Prior to starting her master's degree, she pursued an internship with TransAfrica Forum, a policy advocacy organization in Washington D.C., where she followed legislative and media developments on the political situation in Zimbabwe. At UCLA, Cynthia research focuses on oil revenue management, in particular sovereign wealth fund (SWF) management in Nigeria. For her thesis, she is analyzing the governance structure of the newly created Nigeria Sovereign Investment Authority (NSIA) and comparing it to internationally recognized best practices for SWFs. Last summer, she participated in the Yoruba Fulbright-Hays intensive language program in Ife, Nigeria where she studied the Yoruba language, a language widely spoken in Nigeria. Also, while in Nigeria, Cynthia interned with the Centre for Democracy and Development (CDD), a prominent public policy organization in Abuja. As a CDD intern, Cynthia contributed to the CDD's grant proposal to research the Nigerian government's plans to remove the country's oil subsidy. Following the completion of her master's degree, Cynthia hopes to work with an international NGO, a Nigerian non-profit organization, or the Nigerian government on issues related to successful oil revenue management. Cynthia is a Duke University alum. In the long term, Cynthia would like to pursue a career in natural resource management and policy as it relates to developing countries.
To learn more about the scholarship program click here.